Rope Access & High Rise Painting in Melbourne
Max Access delivers unrivalled rope access painting, abseil painting, and façade maintenance for commercial and residential projects across Melbourne and regional Victoria. Specialising in high-rise buildings, apartments, skyscrapers, bridges and other challenging structures, our experienced rope access painters ensure every project is completed to the highest standard.
High rise painting combines aesthetics with protection. at Max Access, we're committed to ensuring the structural durability and visual integrity of your high access painting project through our expertise in application, consistently meeting and exceeding industry standards.
Key Benefits of Rope Access Painting Services:
Safety & Experience: Our abseil painting services are executed by qualified and experienced technicians. Our technicians strictly adhere to safety protocols, significantly mitigating risks related to working at height
Efficiency: Our rope access painting services reduce the setup and preparation times usually associated with scaffolding, ensuring optimised completion times for your high rise painting project
Minimised Disruption: Our experienced abseil painters work efficiently, ensuring minimal disturbance to neighbouring activities and environments
Versatility: Our rope access painters can access even the most intricate and challenging areas, guaranteeing comprehensive coverage
Cost-Effectiveness: Our streamlined high rise painting services offer a cost-effective alternative to traditional high access techniques
Compliance: Our IRATA-trained rope access technicians operate in accordance with industry guidelines and practices, prioritising global safety and quality standards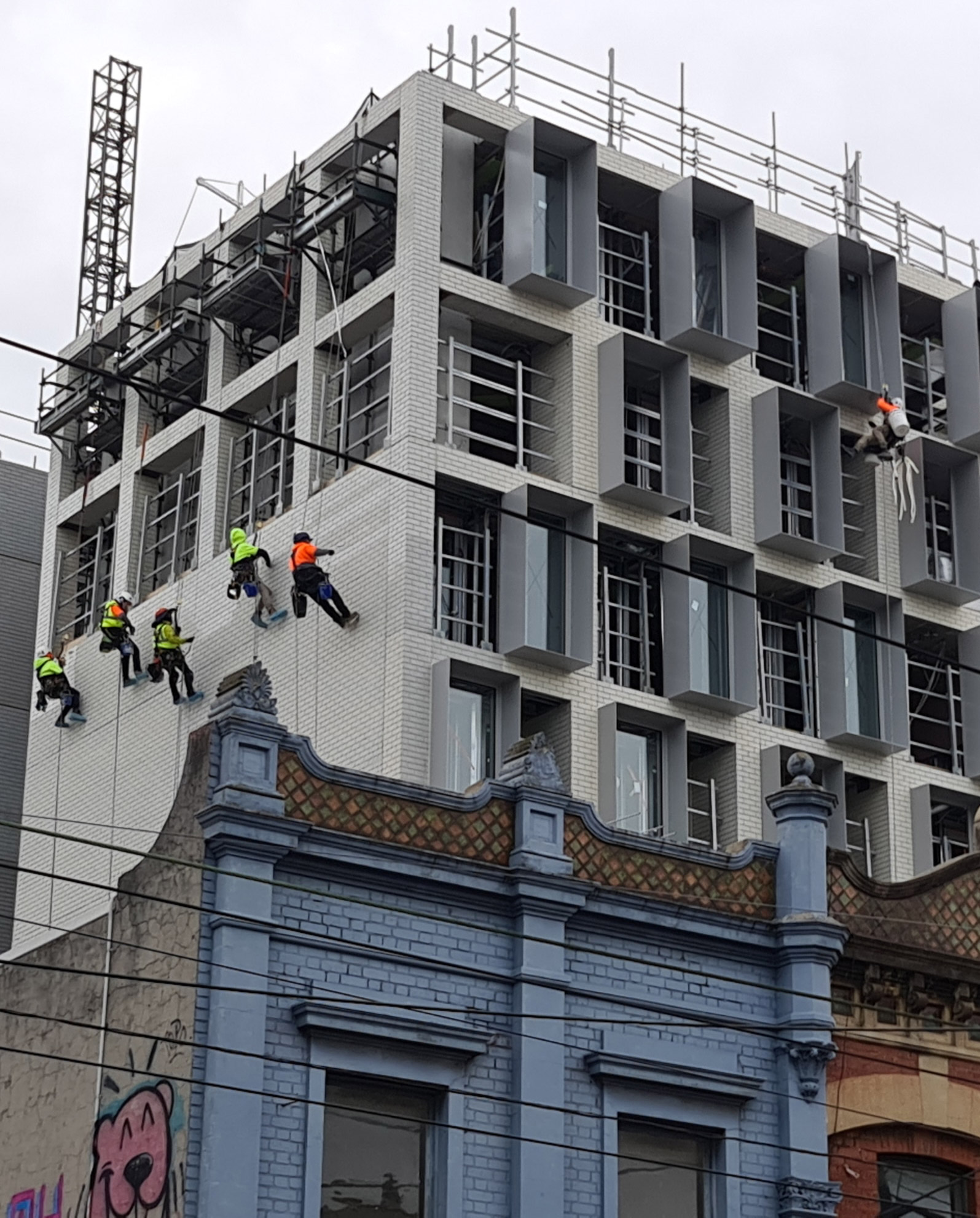 Comprehensive Rope Access & Abseil Painting Services
Rope access painting stands out as the most efficient solution for high rise painting and maintenance projects. Our solutions avoid traditional access methods that often involve permits, extensive planning, and bulky equipment, all of which can inflate project costs and extend timelines.
Max Access effectively handles projects of all sizes, from minor tasks to full façade restorations. Our rope access and abseil painters boost productivity with their efficiency. In addition, our technicians provide a focused roof painting service using limited equipment for a polished finish.
We also offer comprehensive graffiti removal services. Unwanted graffiti can detract from a building's appearance and impact business. Our skilled rope technicians can effectively access any hard-to-reach area to ensuring quick, safe graffiti removal and swiftly restoring your building's façade.
Give us a call or send through an enquiry to discuss your next high-rise painting project.