Rope Access & Highrise Window Cleaning in Melbourne
Max Access delivers premium rope access window cleaning and façade maintenance services for both commercial and residential projects across Melbourne and regional Victoria. We specialise in cleaning tall and challenging structures including skyscrapers, multi-storey buildings, apartment blocks, and more. Our highly skilled rope access technicians ensure that each project is completed to the highest standard.
Rope access window cleaning goes beyond aesthetics. Regular cleaning not only enhances the external appearance of your building, but also prolongs the lifespan of your building's façade by preventing degradation from accumulated dirt and pollutants. Clean windows improve a building's energy efficiency by allowing greater light penetration, whereas dirt and pollutants can reduce light penetration over time. We ensure clear views and a pristine façade, even in the hardest-to-reach places, with our advanced techniques.
Key Benefits of Rope Access Window Cleaning Services:
Safety & Experience: Max Access adheres to top-tier IRATA standards. Our rope specialists undergo rigorous training and maintain their Industrial Rope Access Trade Association certification. For both business and home window cleaning, we prioritise safety, using the best rope equipment and procedures.
Flexibility: Our rope specialists can reach even the most intricate spots on both corporate building façades and high rise residential buildings, ensuring comprehensive cleaning.
Efficiency: In bustling Melbourne, we value our time. Our streamlined approach reduces disruptions and speeds up project timelines for multi-storey structures.
Cost-Effectiveness: Rope access is a cost-effective alternative to traditional methods like scaffolding, thanks to efficient equipment use and faster setup times.
Compliance: Our IRATA-trained technicians adhere to industry guidelines, emphasising global safety and quality standards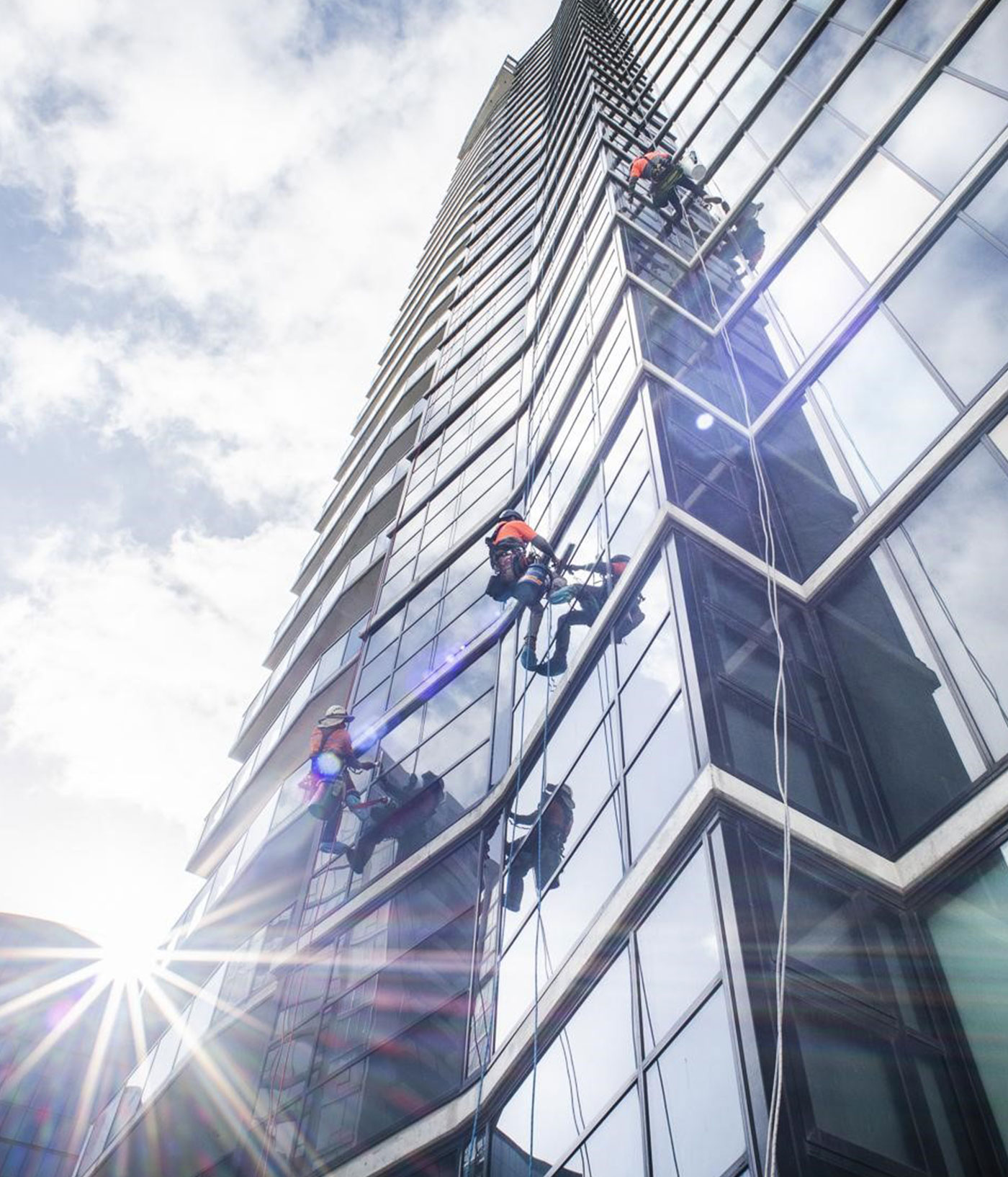 Comprehensive High Rise & Rope Access Window Cleaning
Max Access provides a range of building upkeep solutions, from rope access cleaning to maintenance. Whether it's commercial window cleaning for city skyscrapers or domestic window cleaning for residential buildings, our methods avoid the pitfalls of traditional approaches that often require permits, lengthy planning, and cumbersome equipment.
No matter the size or location of your project, whether in Melbourne or regional Victoria, our vertical rope access technicians will ensure pristine results.
Give us a call or send through an enquiry to discuss your next high-access cleaning project.